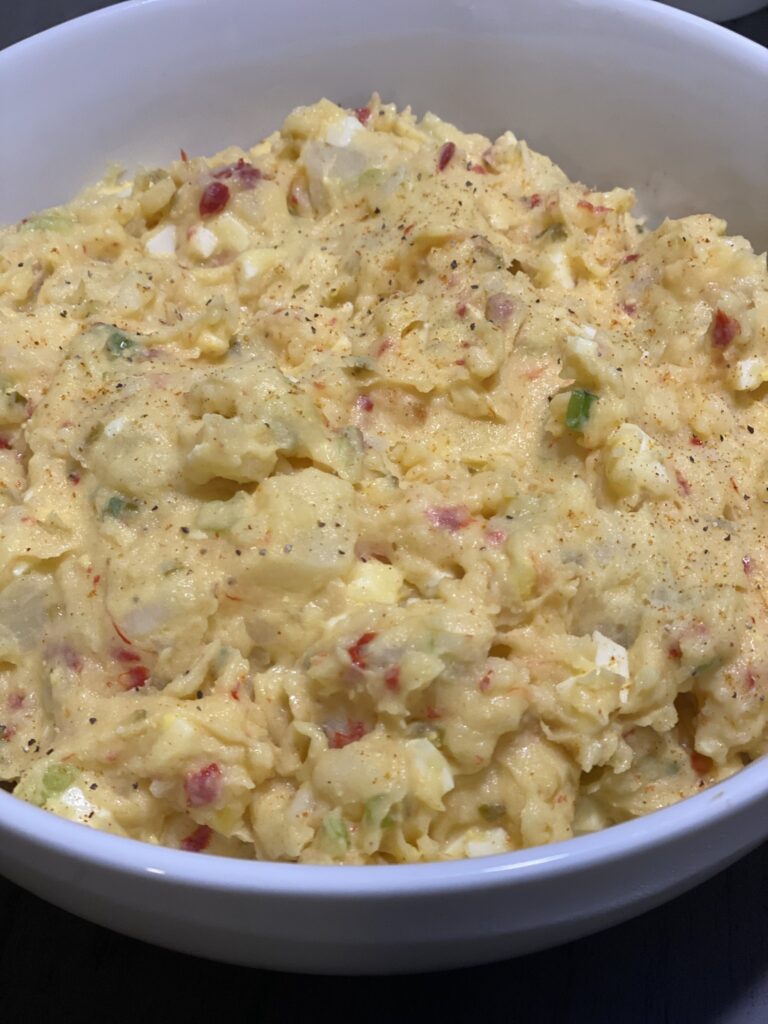 Southern Potato Salad
Description
The perfect side dish for your family cookout or a great addition to your holiday meal!
Instructions
Clean and rinse the potatoes before peeling them. Pat them dry with a paper towel so that they are not slippery when you peel them.

Peel the potatoes and chop them into medium sized cubes. Add the potatoes to a large bowl and rinse them. Drain the water from the bowl. 

Set stovetop temperature to medium-high heat.

Add the potatoes to a large pot and cover with cold water. Bring the potatoes to a rolling boil then decrease the heat to medium-low and cover. Cook for 10-15 minutes or until the potatoes are tender. Be sure to not overcook them. 

Check the potatoes with a fork. If you can pierce them, the potatoes are done.

Using a colander, drain the remaining water out of the pot and transfer the potatoes to a large bowl that has a lid.

When the potatoes have cooled about 10 minutes, add the eggs, celery, green onions, sweet relish, pimentos, light mayo and mustard. Mix the ingredients together with a large spoon.

Add the salt and pepper and mix. Add additional salt and pepper if needed.

Add paprika for garnish, cover and refrigerate for 2 hours before serving.
Note
Chill Time 2 hours
For the best flavor, prepare the potato salad a day before serving and allow it to chill in your fridge until serving time.
This recipe was made using russet potatoes but you can also use less starchy potatoes such as Yukon Gold or white potatoes.
potato, potato salad, mayo, mustard, pimentos, eggs