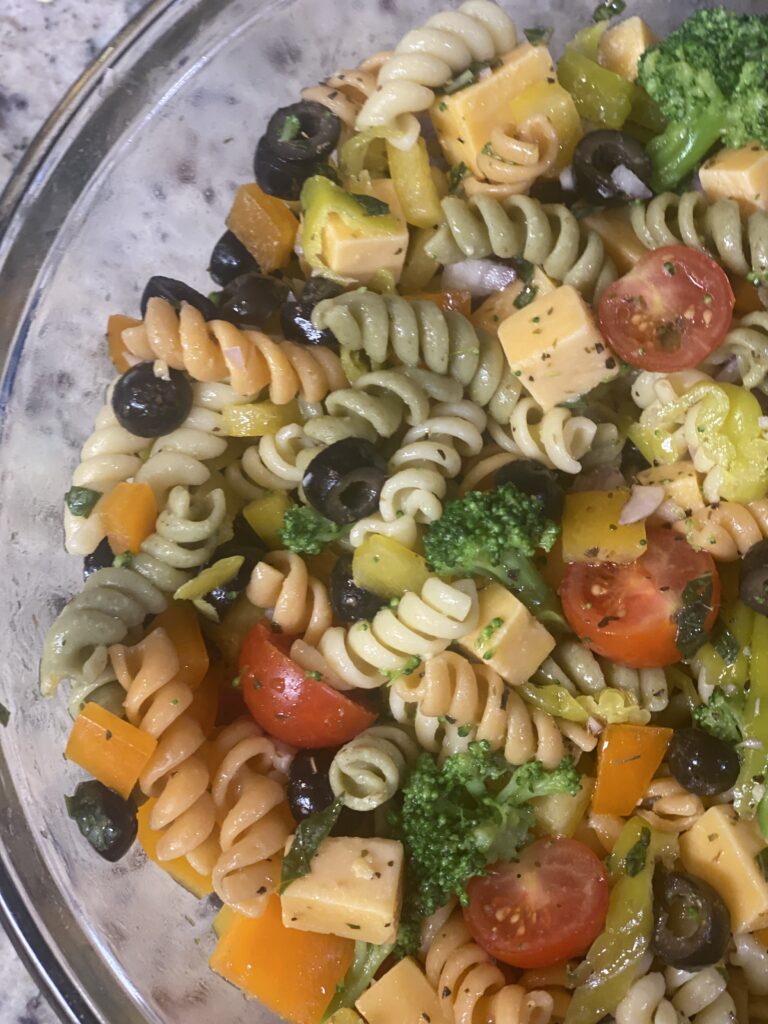 Easy Veggie Pasta Salad
Instructions
Clean and prep the cherry tomatoes, parsley, basil leaves, broccoli florets and bell peppers. 

Slice the cherry tomatoes into halves and set aside. Chop the bell peppers and set aside. Chop the red onions and parsley and set aside.

Slice and chop the basil for the dressing and set aside. Cut the cheddar cheese into medium sized blocks and set aside.

Cook your pasta per package instructions. When the pasta is fully cooked, rinse it with cool water, drain and set aside.

Bring a small pot of water to a boil. Add the broccoli florets and allow them to boil for 2-3 minutes. Take a large bowl and fill it with ice and water.

After 2-3 minutes, turn off your stovetop and carefully remove the broccoli from the pot using a slotted spoon and place the broccoli into the ice water until it cools.

Drain the water from the bowl, pat the broccoli dry and set it aside. 

Add the pasta to a large bowl. Add the tomatoes, bell peppers, broccoli florets, red onions, black olives, pepperoncini and cheese to the bowl.

Pour the dressing over the vegetables and cheese and gently mix with a large spoon to ensure that the dressing coats all of the ingredients. Taste and add additional seasoning if needed. Garnish with parsley (optional).
Dressing
Add extra virgin olive oil and red wine vinegar to a mason jar or bowl.

Add oregano, salt and pepper, sugar, dried and fresh basil and garlic. Mix the dressing well, cover and refrigerate until it is time to pour over the pasta salad.
Serving Size 12
Servings 0.5
Note
Chill time: 1 hour
Vegan: Omit the cheese or add a non-dairy cheese to the pasta salad. 
pasta salad, cold salad, meatless salad