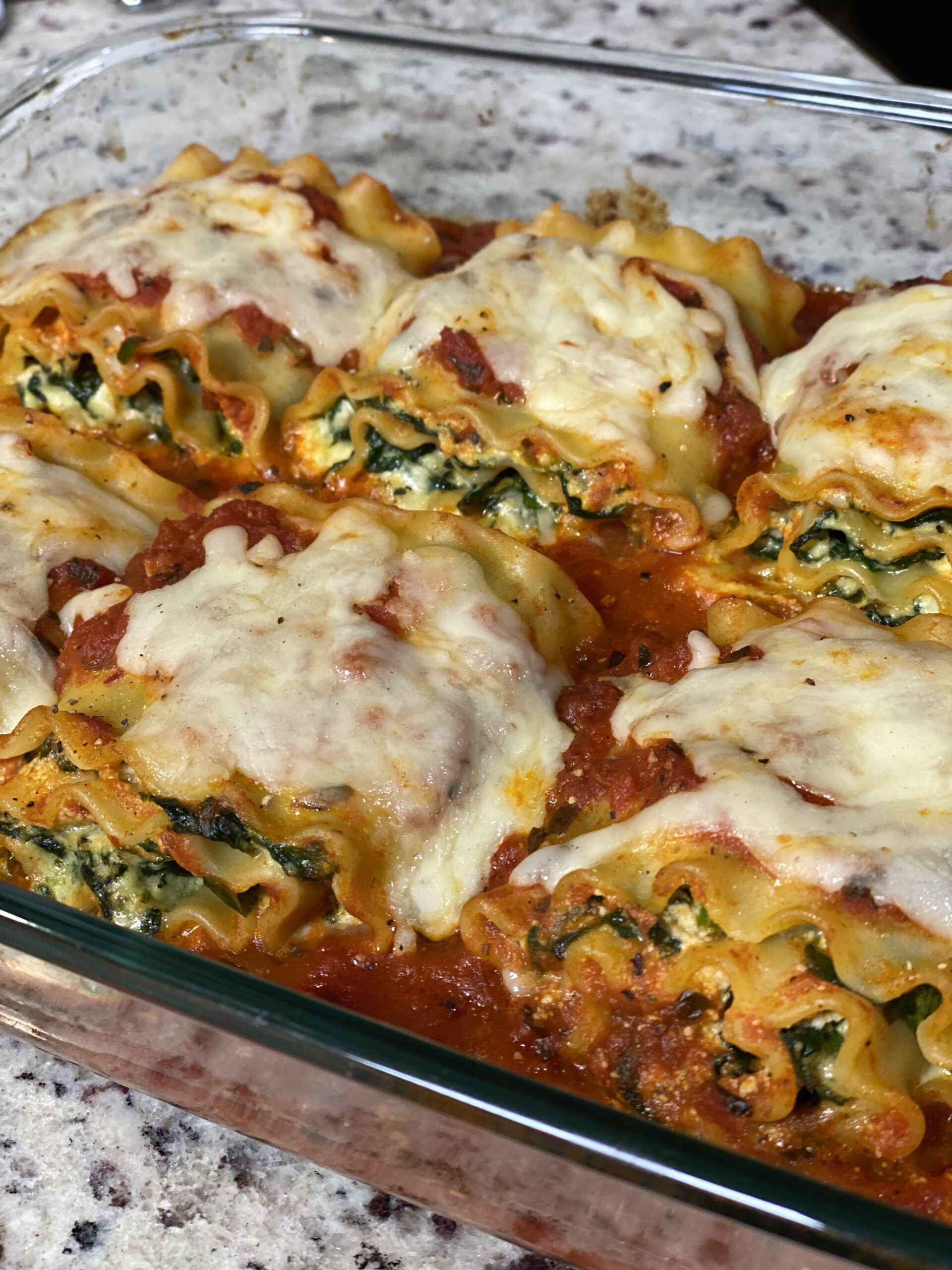 Easy Spinach Lasagna Roll-ups
Instructions
Take your fresh spinach and clean and rinse it per your preference. You can use a salt spinner to remove excess water as well.

Set your stovetop to medium-high heat. Take a large pan and add 1-2 tbsp of olive oil.

Add the spinach and cook until it is no longer raw.

Add the garlic and mix with the spinach.

Continue cooking the spinach and garlic until the garlic smells fragrant about 1-2 minutes.

Remove the spinach from your pan and set aside.

Allow your spinach to cool about 2-3 minutes.

Bring water to a boil in a large pot.

Add your lasagna noodles and cook per the instructions on the package.

Add the spinach and garlic mix to a bowl.

Add the ricotta, Parmesan, mozzarella, egg, basil, parsley and mix.

Taste and add additional salt and pepper if needed.

Preheat your oven to 400 degrees.

Pour your marinara sauce into a medium pot. Set the temperature to medium and cook the marina sauce until it is warm.

Remove the lasagna noodles from the pot once they are done per the package instructions, rinse them in cool water using a colander and set aside a few minutes to allow them to cool.

Pour and spread about 2 cups of the marinara sauce onto the bottom of a large glass baking dish.

Lay two noodles flat in the dish.

Using a spoon, place the spinach mix onto the noodle and spread it covering the entire noodle using a fork or soft spatula. Be sure to not overstuff the noodle.

Once the noodle is covered with the mix, roll it up starting from the bottom.

Repeat steps 18-20 until all of your noodles are filled and rolled up.

Gently pour about 1/4 cup of marinara sauce over all of your lasagna roll-ups.

Take two fingers full of mozzarella and place it on the top of each lasagna roll-up.

Place your dish into the oven and bake for about 20-25 minutes or until the cheese is melted in and outside of the roll-ups and the sauce is bubbly.
spinach, lasagna, ricotta, mozzarella, parmesan, garlic, italian, vegan, vegetarian