When I was younger, my mom would prepare one of my favorite meals: okra, sausage and tomato soup. When I removed meat from my diet, I could not imagine how I could still enjoy the same flavors that my mom used to prepare her okra soup until I created my recipe for okra gumbo. I learned that I did not have to "recreate the wheel" and could still enjoy the same flavors that I loved, without meat.
I used many of the same fresh ingredients that I use in other recipes. I also like to use low sodium vegetable broth, seasoning and dry ingredients that do not include added salt. This recipe on the other hand can be spicy, depending on the level of cajun or creole seasoning that you add to the dish. This recipe is also not salt free. I used fresh okra, garlic and thyme which I believe enhanced the flavor of the gumbo. My okra gumbo recipe is simple and you don't have to be a chef to make it. I hope you enjoy it.
Recipe Card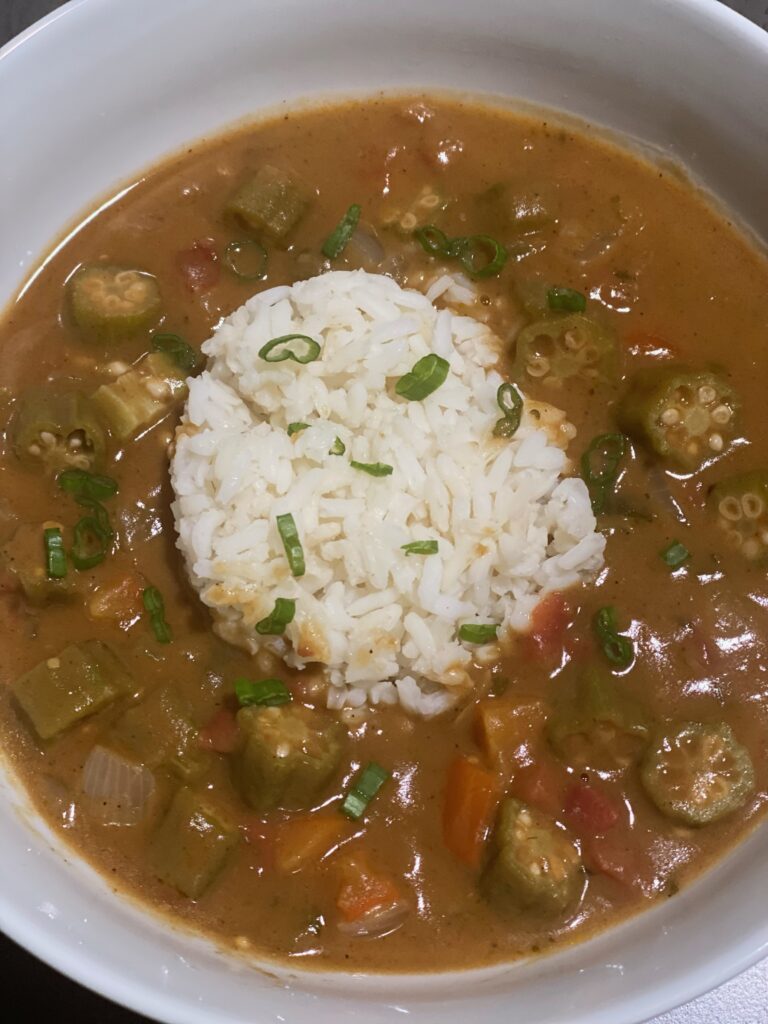 Okra Gumbo
Instructions
Set your stove to medium heat. Add the vegetable oil to a medium-large pot. Once the oil heats, add your flour and mix with the vegetable oil using a wooden spoon.

Continue to stir the flour and oil mixture as it browns. Be careful not to burn it. If you do, you will have to start again. Adjust your heat as needed.

Continue to stir the flour and oil mixture until it reaches a chocolate/dark brown color. It may take 30-45 minutes to achieve this color.

Decrease your heat to medium. Add the red bell peppers, white onions, garlic and celery and mix with the roux. 

Add the diced tomatoes, seasonings, fresh thyme and bay leaves.

Add the vegetable broth, okra and the green onions.

Bring the gumbo to a boil, then decrease the heat to medium low.  

Cover and allow the gumbo to cook for about 30-40 minutes stirring occasionally until your vegetables are thoroughly cooked.

Taste and add additional seasoning if needed.

Remove the bay leaves and serve with rice.
Note
This recipe may be spicy based on if you use cajun or creole seasoning. I recommend that you add in you cajun or creole seasoning, 1/2 tbsp at a time to your desired taste level. 
This recipe was prepared with fresh okra, low sodium vegetable broth and low sodium diced tomatoes but you can use frozen okra and any type of vegetable broth or diced tomatoes that you choose.
okra, gumbo, tomatoes, bell peppers, garlic, cold weather, comfort food