Spring is finally here and with that comes outdoor activities, fun days at the park and picnics! I love preparing and eating salads and my family often tell me that my salads are too pretty to eat! I gladly take that as a compliment but food was made to be enjoyed. Here are a few of my favorite salads you should try and if you are interested in trying other salads, there are more on the way!
Recipe Card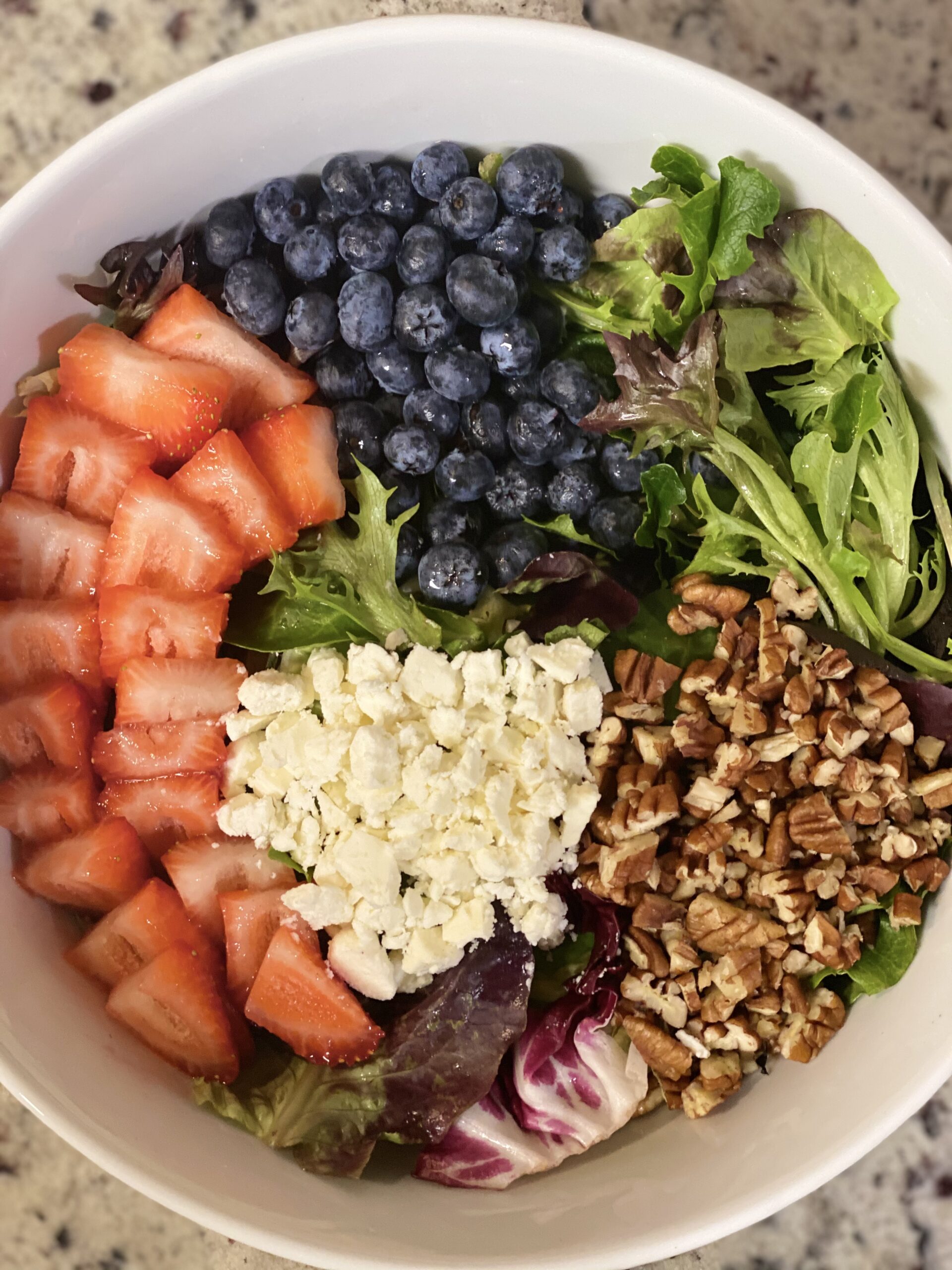 Easy Spring Berry Salad
Instructions
Clean and prep all of your vegetables and fruits.

Add the salad to a large bowl.

Add your fresh blueberries.

Slice your strawberries, removing the outside layer.

Slice each strawberry in half and place them in the bowl layering each one on top of the other.

Take the 1/2 cup of pecans and place them on a cutting board and chop them into small pieces.

Place the pecans into the bowl.

Place the feta cheese crumbles into the bowl. Cover and place in the refrigerator.

Mix the balsamic vinegar, honey, garlic, Dijon mustard, salt and pepper in a bowl or pour each ingredient into a mason jar and shake.

Refrigerate and pour over the salad before you serve it.
spring mix, blueberries, strawberries, feta, salad, spring
Recipe Card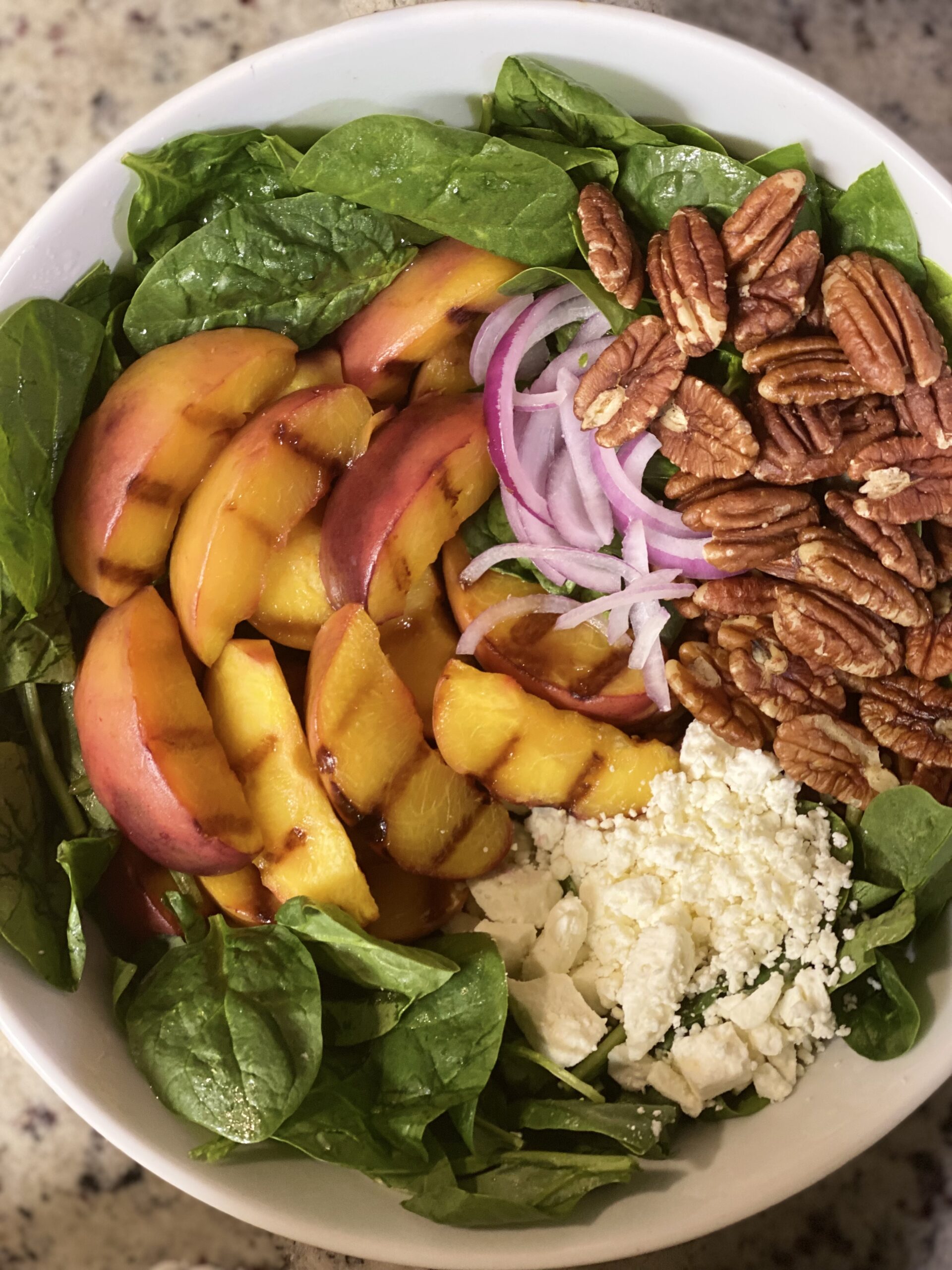 Peaches & Pecans Spinach Salad
Honey Balsamic Vinaigrette Dressing
Instructions
Roast pecans
Preheat your oven to 350 degrees.

Place your pecans in a small bowl.

Drizzle 1/2 tbsp of olive oil over the pecans and toss to coat.

Place parchment paper over a small baking sheet.

Lay your pecans flat on the baking sheet.

Bake in the oven for 5 minutes.
Grill peaches
Clean and pat dry your peaches.

Cut the peaches in half, twist apart to remove the pit.

Cut your halves into 3-4 slices.

Drizzle 1/2 tbsp of extra virgin olive oil over your peaches.

Place your peaches on a grill for a few minutes on each side.

Remove your peaches from the grill and set aside. (You will know that it it time to remove them when the grill marks are visible).
Salad Instructions
Clean and prep your fresh spinach.

Add your spinach to a large bowl.

Add your pecans, feta cheese and peaches to the bowl. Add your red onions.

Mix all of the ingredients of your salad together and serve.

Each serving should be drizzled with 1 tbsp of dressing.
Note
*Substitute feta cheese for any cheese that you like or vegan cheese.
*Use a vegan dressing or a vegan alternative to honey for the vinaigrette.
Recipe Card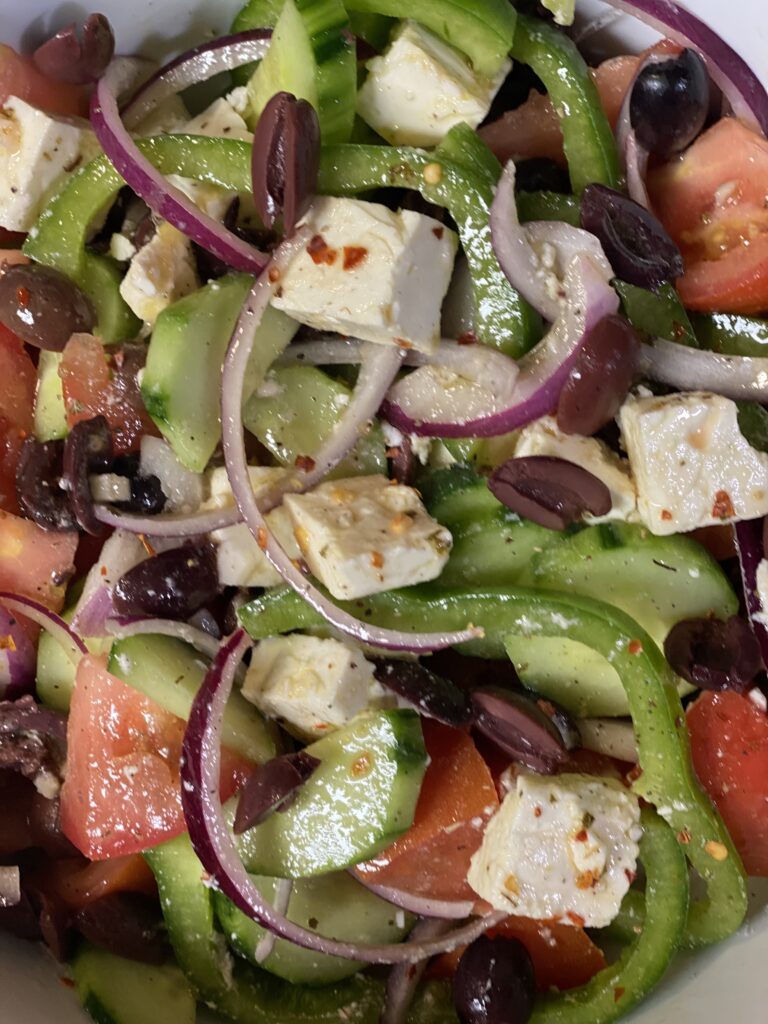 Easy Greek Salad
Instructions
Prep and clean all of the vegetables per your preference.

Add the cucumbers to a bowl.

Add the green bell peppers.

Add the kalamata greek olives and mix the ingredients together.

Drizzle half of the salad dressing over the ingredients.

Gently mix all of the ingredients together.

Drizzle the remaining salad dressing over the ingredients.

Add additional salt and pepper to taste if needed.
Note
If you are making the salad ahead, add the dressing before you serve it.
Substitute the feta cheese for vegan cheese.
Substitute the dressing for vegan dressing or substitute the honey for a vegan alternative.
cucumber, kalamata olives, bell pepper, feta cheese, red onion, tomatoes